~ 2 min read
Kids Graduation: Little Champions & Juniors - July 8th, 10:00-11:30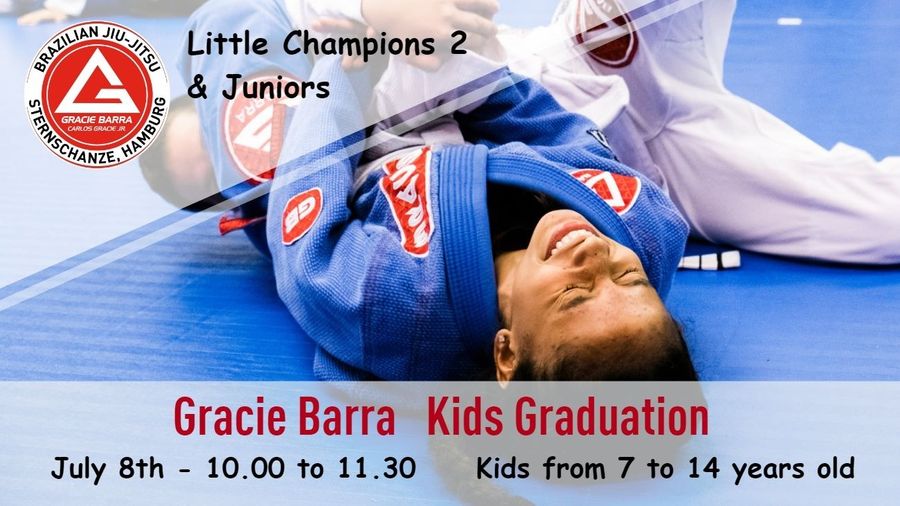 Attention parents, guardians and students,
We are delighted to announce the upcoming Kids Graduation ceremony for our Little Champions 2 and Juniors on July 8th. It's time to celebrate the hard work, dedication, and progress of our young BJJ practitioners!
🗓️ Date: July 8th
🕗 Time: 10:00-11:30
📍 Location: Gracie Barra Sternschanze
This special event will honor the accomplishments of our kids aged 7 to 14 years old who have demonstrated exceptional skills and growth in their training. It is a significant milestone that reflects their commitment and serves as a source of inspiration for all.
We invite you to join us in celebrating this memorable occasion in your child's martial arts journey. Witness their proud moments as they receive their well-deserved promotions and recognition.
If you have any questions or require further information about the Kids Graduation ceremony, please don't hesitate to reach out to our team.
We look forward to celebrating the achievements of our Little Champions 2 and Juniors on July 8th. Let's make it a day filled with pride, happiness, and support for our talented young BJJ practitioners!
Best regards, The Gracie Barra Sternschanze Team
For more information about the graduation ceremony for younger kids, please click here.
Please kindly take note of the holiday schedule change for our kids' classes.
Attention:
Due to the Kids Graduation, the adults schedule will change as well:
Saturday - All Levels 12-13:30
Sunday - All Levels - 11:30 - 13:00